Relaxation & healing for the body, mind & soul
Reflexology is a deeply relaxing therapy which uses light pressure to massage & stimulate reflex points in the feet, believed to correspond to the systems and organs of the body.
Reflexology encourages both deep relaxation & stimulation. The former helps the body rebuild its energy resources & recover from illness. The latter helps to activate the circulation & nervous system, making them more efficient and thus benefiting the body as a whole.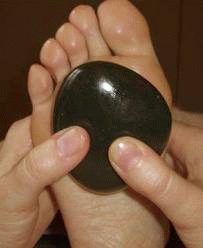 The introduction of Hot Stones into the treatment takes relaxation to another level! It is estimated that one stroke of a hot stone is worth five strokes with the hand!
It is also believed to yield five times deeper and longer lasting effects compared to a "normal" reflexology session. The heat helps to relax the muscles in the feet allowing the therapist to work deeper into the reflex areas.

The stones are composed of basalt, a volcanic rock, which retain heat extremely well. They are heated at a controlled temperature and are applied to the skin combined with organic oils for a deeply relaxing, therapeutic experience.
Reflexology is a non-invasive treatment, conducted fully clothed. You will lie on a comfortable massage couch and remove all footwear. Soft blankets and pillows are available for warmth & comfort. Your feet will be cleansed with a warm, fragrant towel and a nourishing organic balm used to massage both feet.
Reflexology does not diagnose disease, nor attempt to treat or cure medical conditions, but instead works alongside traditional medicine to maintain and restore a state of health & well-being.
Regular Reflexology treatments aim to keep the body systems balanced and can be beneficial for stress, anxiety, headaches, insomnia, tension, pain relief, as well as digestive, menstrual, gynaecological & circulatory problems.

Reflexology can be booked as 45 or 60 minute treatments. It can also be "mix & matched" with Indian Head massage or Tsuboki Japanese Face Massage for a wonderful "Head to Toe" experience.

Benefits can be felt as early as the first session, but often a course of treatments is recommended for maximum effect. Pre-paid discount packages are available for all single treatment options (see Treatment Prices for details).

0

/